You may not believe it. But the stock market is in full-on "breakout mode" right now. 
Yesterday, stocks soared after the December PCE report confirmed that inflation continued to collapse in December. The PCE inflation rate dropped by 50 basis points to 5%, marking the second consecutive month of 50 basis points of disinflation. 
At that rate, inflation will be back to "normal" by April!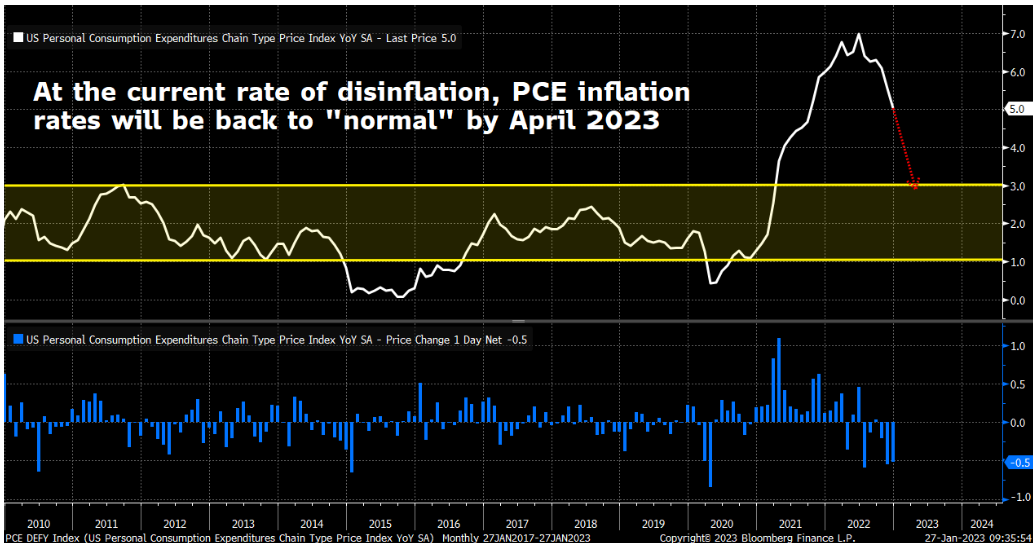 In response, the market soared. The S&P 500 rose more than 0.5%, while the Nasdaq popped over 1.2%. 
The rallies continue what has been a red-hot start to the year. Year-to-date, the S&P 500 is already up more than 6%, while the tech-heavy Nasdaq is up more than 10% – and it's not even February yet. 
Certain stocks are faring even better. For example, our Core Portfolio is already up almost 20% this year!
At this point, it has become pretty clear that a new bull market is emerging. 
Stocks don't do what they're doing right now – rally day after day, week after week, to retake long-term moving averages, with widespread participation among all stocks and risk-on assets like tech, small-caps, and growth leading the way – unless they're entering a new bull market. 
If it looks like a duck, walks like a duck, and quacks like a duck, it is probably a duck. 
This, folks, is probably a new bull market. 
Right now, all signs are pointing up. 
But why? 
In a nutshell, everything's getting better – and no one saw it coming. 
Unexpectedly Favorable Macros
The market overreacted to 2022's uniquely bad circumstances and thought they would persist into 2023 and beyond. That's normal. When bad stuff happens, humans tend to think things won't get better. 
But things are getting better. Those uniquely bad circumstances are dying here in 2023. And as they do, stocks are roaring back to life. 
For all the talk of runaway inflation, nearly every metric is collapsing, implying that inflation is set to return to "normal" levels by either March, April, or May. Just look at yesterday's PCE numbers from December. Inflation is on track to normalize by the spring. CPI numbers tell the same story. 
For all the talk of a deep recession, pretty much every consumer spending metric is staying resilient and pointing toward continued growth in the U.S. economy. Just look at Visa's (V) and Mastercard's (MA) quarterly earnings reports from this past week. Both pointed to continued strong spending in the last three months of 2022 and rising spend in the first month of 2023.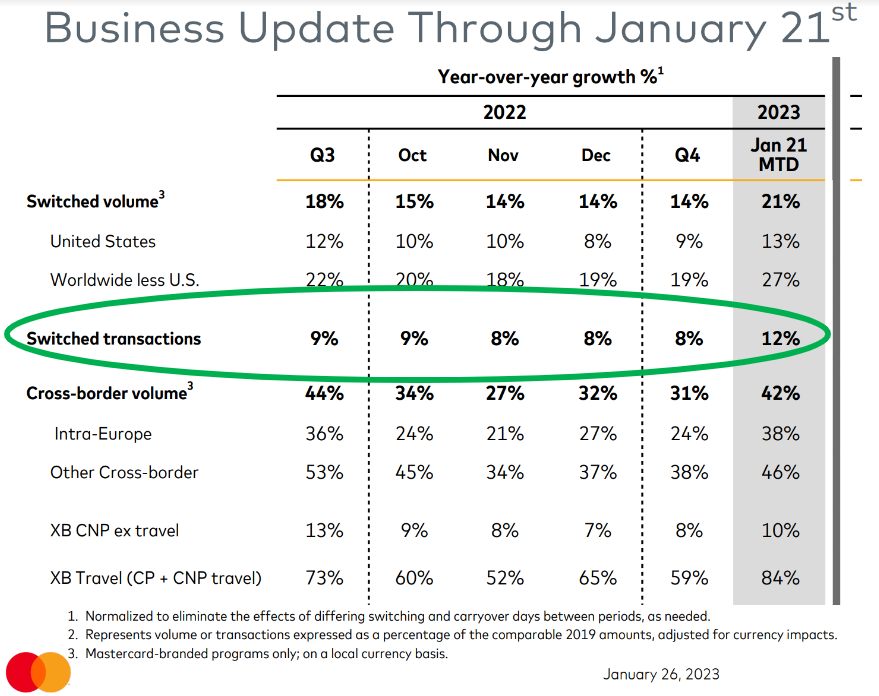 For all the talk of an ultra-hawkish Fed, over the past few weeks, almost every single Fed member has said that their job is close to done. 
And for all the talk of another 20%-plus crash in stocks, nearly every technical indicator is suggesting the stock market is in breakout mode right now. Just look at the textbook technical breakout the S&P 500 is staging!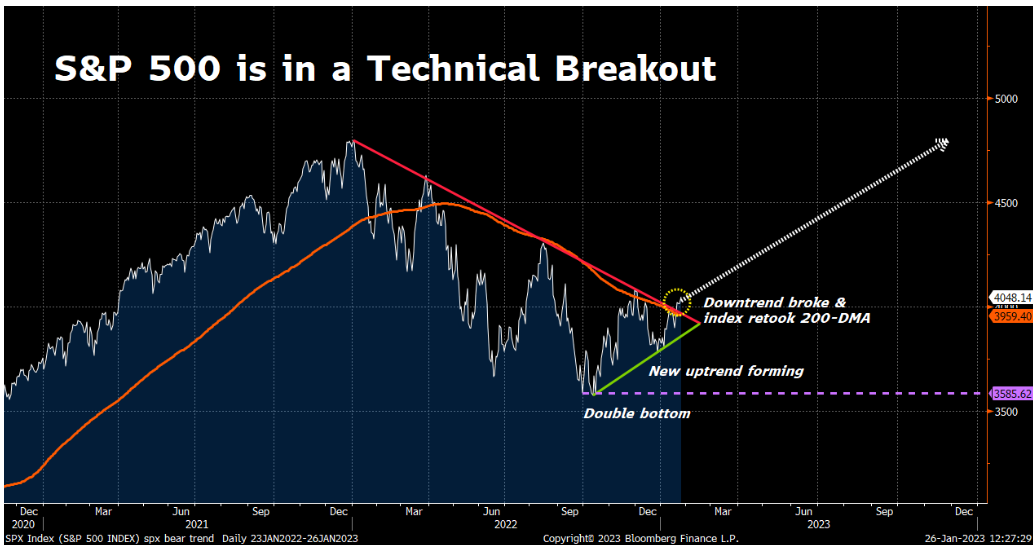 Everyone thought things were going to get worse. Now they're getting better. So, the stock market is in breakout mode. 
And this breakout has legs. 
The Stock Breakout Has Staying Power
The prevailing economic conditions will continue to improve as we push deeper into 2023. Inflation will keep falling. The Fed will take its foot off the gas pedal. And the economy will restabilize. 
As all that happens, stocks will keep soaring. 
The gains won't be small. 
Remember: Fortunes are made in bear markets. 
Specifically, fortunes are made in the months when bear markets suddenly turn into new bull markets. And that's exactly what is happening right now!
History says the S&P 500 rises about 10% every year. In a really good year, the market will pop 20%. 
But in the months when bear markets turn into bull markets, those gains are injected with steroids. 
For example, in the raging bull market of 2019, the S&P 500 rose about 25% over the course of a year. But when the COVID-19 crash turned into a new bull market in March 2020, the S&P 500 rose more than 60% over the next five months!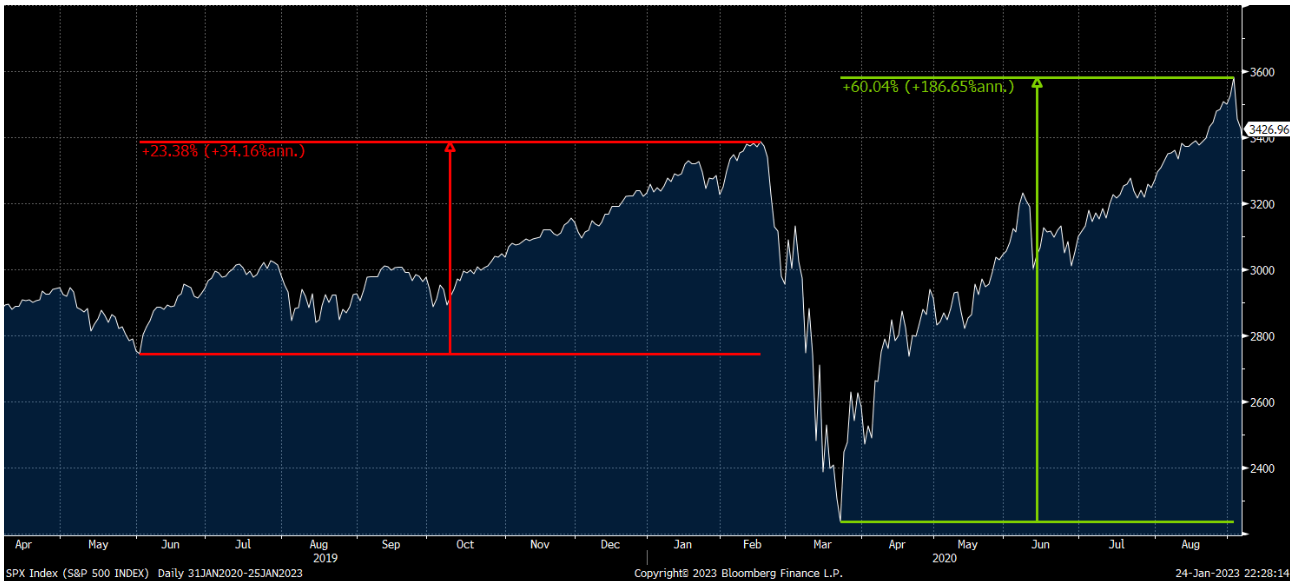 In the three years of the bull market leading up to the 2008 financial crisis, the S&P 500 rose about 40%. But when the crisis ended and turned into a new bull market in March 2009, the S&P 500 popped about 80% over the next year.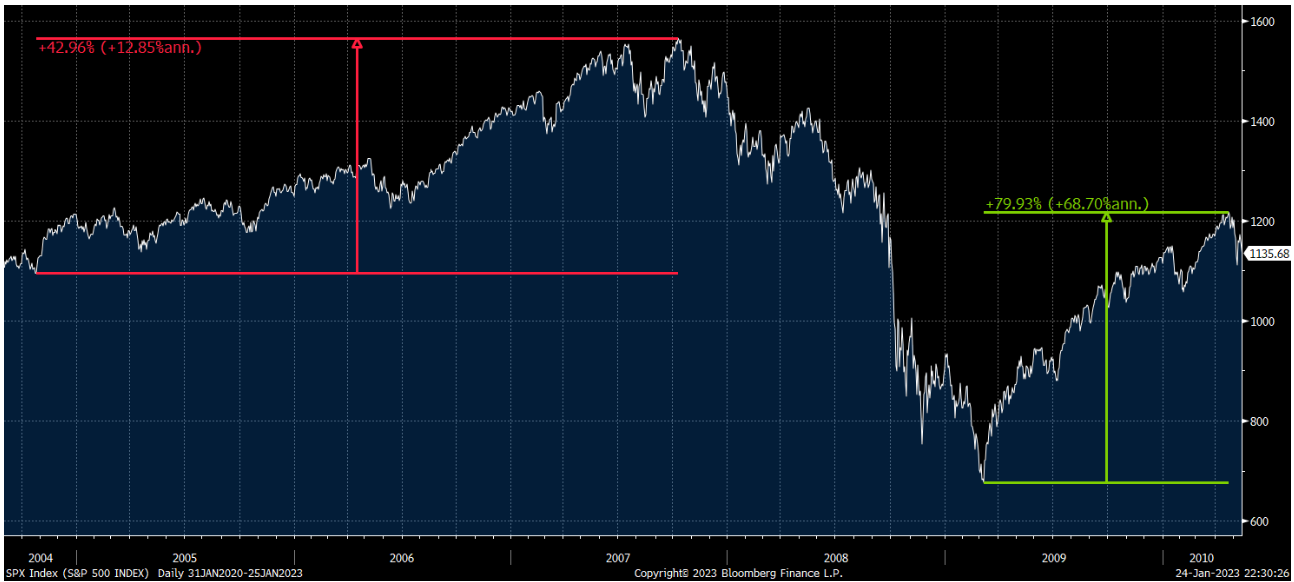 Even in the last two years of the biggest raging bull market ever – the dot-com boom of the late 1990s – the S&P 500 still only rose about 25%. But after the dot-com crash bottomed and became a new bull market in late 2002, the S&P 500 rose about 50% over the next year and change.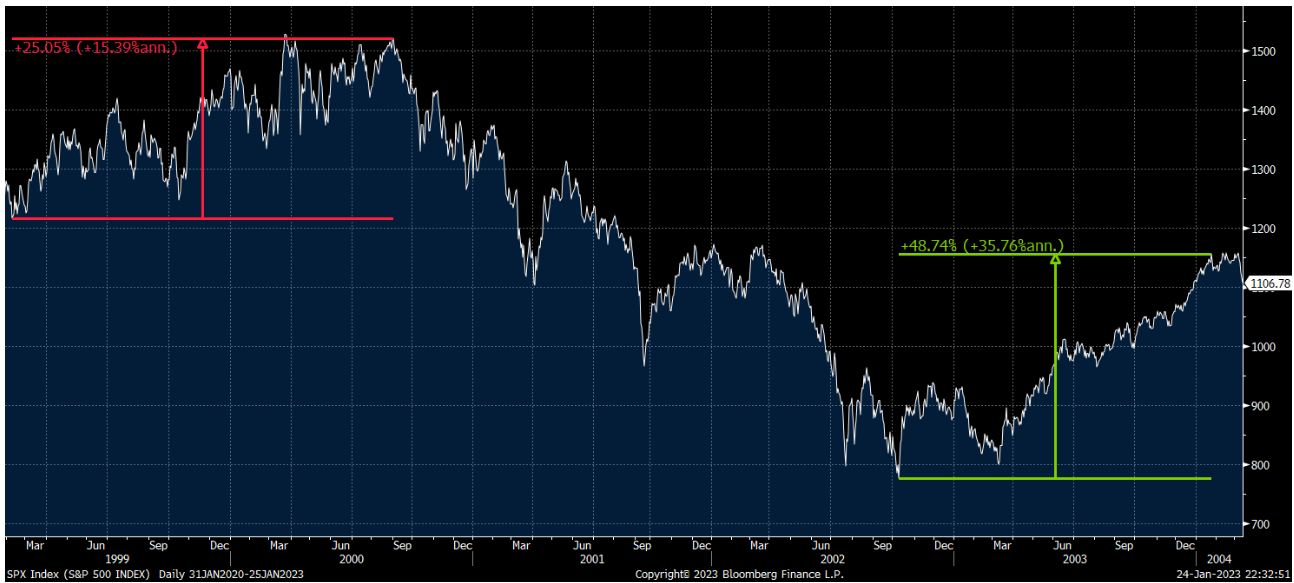 You get the point… 
The biggest returns in Wall Street history almost always happen when bear markets turn into bull markets.
The Final Word
And that's exactly what is happening right now. 
Therefore, at this very moment, you are being presented with a generational opportunity to secure huge gains in the stock market.
Will you capitalize on this opportunity? 
My team and I have put together a list of the top stocks to buy for this stock market breakout of 2023. 
We think a number of them could soar more than 100% over the next 12 months alone. 
So, if you're really interested in snagging huge returns in this stock market breakout, you need to learn about these stocks.
On the date of publication, Luke Lango did not have (either directly or indirectly) any positions in the securities mentioned in this article.